Your Sacramento Pet Sitter
(916) 585-3182
We offer cat sitting, dog sitting, dog walking, care for rabbits, chickens, rats, fish and more.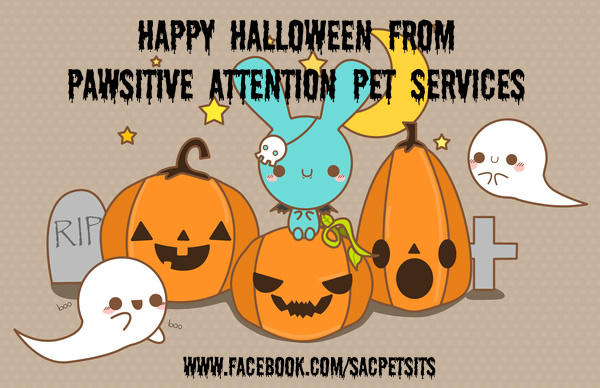 Halloween is full of good times for us humans but can be overwhelming for our pets. Here are 10 ways you can ensure the holiday is enjoyable for all:
Pranksters come out in full force on All Hallow's Eve. Keep your pets indoors and never leave them outside unsupervised, even for a quick potty break.
The constant ringing of a doorbell and door knocking may aggravate pets – consider disabling the bell, sitting outside to pass out candy, or putting pets in a quiet back room with a radio playing classical music to help drown out the noise.
Costumes can be scary! Even if your pets have not had a negative reaction to costumes in the past, there are so many different types of costumes that they may find one that they simply cannot handle – and this is a time when they may lash out in fear by biting. It's a good practice to simply keep costumed folks away from your pets.
Costumes have a lot of parts! Ribbons, buttons, and more – all can be choking hazards and deadly to your pets. Do not leave elaborate costumes out where your pets can play with them, and supervise your pets (cats especially) who may sneak up to take a swipe or a nibble from hanging materials.
A sweet tooth can land you at the emergency veterinary clinic. We should all know by now that chocolate can be highly toxic, but did you know that xylitol, a common ingredient in sugar-free candy and gum, is toxic as well? Some other common Halloween treats that can make your pet very very ill (or worse) are: grapes and raisins (from you health conscious treat givers) avocado pits & skins (discarded when you're making dips), macadamia nuts (gotta have a party tray!), beer (for all you hardcore party people), and caffeine (when you're trying to sober up). Of course this list isn't all inclusive and it's best to simply stick with treats you KNOW are safe for your pets. It's a good habit to do a quick google search for your chosen pet treat + dangers to see if any bad effects have been reported.
Candles can set the spooky mood and make your jack-o-lantern glow but wagging tails and curious paws can be easily burned when your back is turned. Keep these items outside where you pet cannot reach them, or keep your pets in another room or crate until the tiny fires are done for the night. (Pawsitive Attention Pet Services client Nikki suggests using the new flameless battery operated candles when possible too)
Dressing up your pet? Take some time to check that all hanging parts are firmly attached and that your pet cannot reach around and chew on them or grab them. Never leave a pet in a costume without your direct supervision.
That door that keeps opening for the treat seekers can be seen as an invitation to run outside in the blink of an eye. Don't trust that your pets won't bolt – use leashes, crates, or the safety of a closed door in another room to make sure your pets don't end up running loose outside.
Halloween decorations that make noise, have lots of moving parts, or are designed to startle should be used when pets are not in the room. Make sure your pets aren't trying to chew cords, lights, or other decor as well.
Make sure identification tags and microchip information is up to date. If your pets do somehow get lost, these two things can help him or her return safely home. If your pet does end up missing, delegate pet finding tasks immediately. Have one or two people out canvassing the area while someone else is posting on craigslist, creating flyers, and logging a lost pet report on petharbor as well as sending out a message on facebook to let your friends and family know to keep an eye out. As soon as the shelters open, visit them in person to put your flyers in the "lost pet" binders that they all keep in the lobby. There are 3 animal shelters in Sacramento: City of Sacramento Animal Care Services on Front St, County of Sacramento Animal Care & Regulation on Bradshaw, and the Sacramento SPCA on Florin-Perkins
I hope these tips will help you and your pet to enjoy the holiday – NOW GO HAVE FUN!